If good things come to those who wait, then the Florida State Fair 2021 must be one of the best things to come around in a long time.
Postponed from its traditional February date due to Covid-19 restrictions, this time-honored event is back, bigger and better than ever.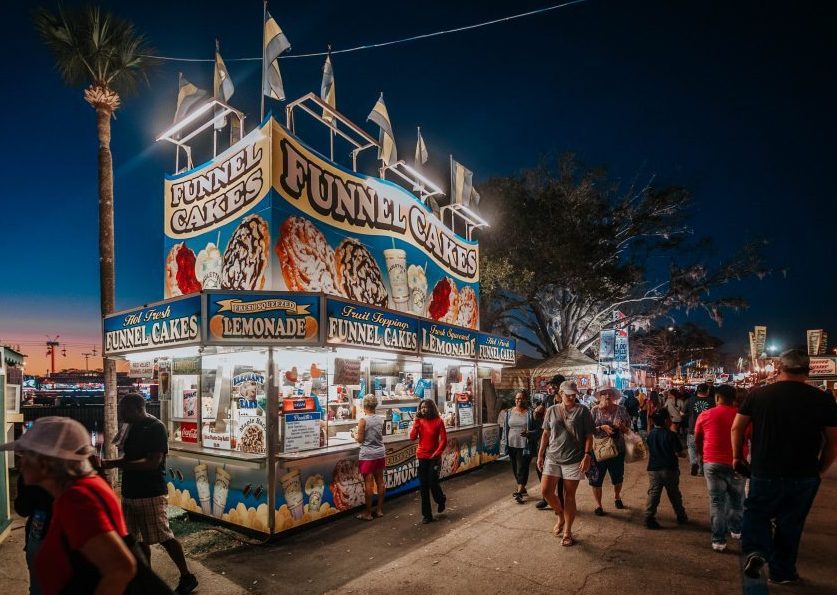 Best of all, the Florida State Fair 2021 truly has something for everyone, whether it's unique and delicious fair food, the thrilling rides, or one of the most entertaining music festivals in Florida.
Here's what you can expect from the Florida State Fair 2021.
Florida State Fair Dates
This year, the Florida State Fair will run from April 22-May 2.
Of course, one of the best things about the fair season in Florida is how long it lasts.
The Central Florida Fair (Pictured Below) ran March 3-13 and the North Florida Fair will take place from November 4 to November 14.
For planning purposes, here are some important Florida State Fair dates:
Dark Knights. Watch a medieval jousting tournament live and in person. Every day at 1:30, 3:30, and 7:30 PM from April 27 to May 2.

Tour of Destruction Demolition Derby. Watch the carnage until only one car is left. April 23 and 24 at 1 PM and 7:30 PM. (Seating is limited.)

Deep Fried Dash. This annual race through the fairgrounds will take place on May 1.

All Fired Up. This one-of-a-kind Benatar tribute band performs at the fair April 22-26.

Dollipops. The newest and best in kids' entertainment will perform from April 27-May 2.
Of course, most Florida State Fair events are ongoing throughout the entire 11-day stretch. Here's a breakdown of some of these events and attractions.



No matter who you are, you will find something to thrill you at the Florida State Fair. Here's a sampling.

Food
This is your yearly opportunity to sample culinary creations like the PigRig, a grilled cheese sandwich stuffed with barbecue pulled pork and mac n cheese. Other foods on offer: the legendary Cookie Pail, the Loaded Tater Burger, and a blue raspberry lemonade served within a pineapple.

Entertainment
The Daredevil Daze 2.0 features danger-defying stunts like FMX and Motorcycle on a High Wire. And don't forget to check out the Gascar Crazy Animal Races and the Mango and Dango circus performers.



Live Music
Florida State Fair also features one of the best live music festivals in Florida, with a choice of four stages. Enjoy Divas Through the Decades as they honor female vocalists from every decade since the 1940s. For the sound of classic Americana, check out Society Funk Band. And the Dweebs can always be counted on for not just music, but plenty of fun.
If you just can't get enough live music, check out some other great music festivals in Florida.

Exhibitions
Take a walk through the Florida Center to enjoy works of art from the greatest talents in Florida. Tour authentic homes in "Cracker Country" to get a taste of life in the 19th century. And learn about Florida forests in the Florida Forest Discovery exhibit.


Rides
Florida State Fair features the best Midway in the U.S., with tons of thrilling rides including WipeOut, Street Fighter, and Midway Sky Eye.


A word about safety
Like the North Florida Fair, the Florida State Fair 2021 will have safety guidelines in place to prevent the spread of Covid-19.