🎨 5 Online Tools to Show Your Art in a Room!
By Carolyn Edlund, posted 08/19/20 14:03:59  
Category » Inspiration
Ready to increase your online art sales? Present your work beautifully by sharing the impact and scale of artwork with potential collectors through the use of in situ images.

Offering room views enhances the shopping experience, and increases customer confidence. Creating these images doesn't require Photoshop or even a high level of technical ability. Check out the tools below and start showcasing your own art in virtual rooms!

ArtPlacer

This site offers a paid service that ranges from $11 – $59 per month, and serves a variety of clients, including artists, galleries and art consultants. Place your artwork in an uploaded image of a collector's wall to give them a preview. Or, design and create an entire exhibition of work on a virtual gallery wall or exhibition booth.


ArtRooms

This option is a smartphone app that superimposes your work on a selection of interiors. Room settings are updated frequently, and different colored walls are available. Select frames to suggest hanging options, and easily share your images. ArtRooms has a high customer satisfaction rating. Try it for the first month at $3.99, then pay a monthly fee of $7.99.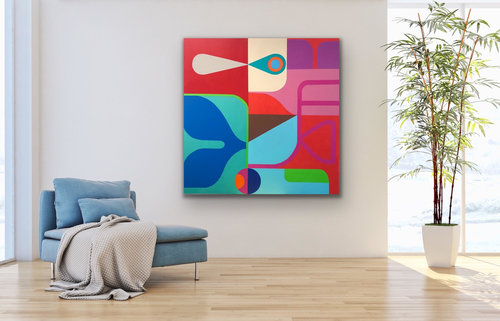 Artist Marion Griese shares her art in a room setting using the ArtRooms app
MockUpEditor

This cool site lets you customize a mockup right in your browser with an easy drag and drop feature. Use a pre-made template or build it yourself on a "blank canvas" and place your art in the setting. They offer flexible pricing so you can pay for only what you need, ranging from $5 for a single download to $69 for unlimited annual use.

iArtView

A smartphone app, iArtView is useful for artists as well as trade professionals. Show artwork at scale in a selection from their collection of interior photos. Choose a frame option if desired. Adjust the lighting, select a wall color, edit, save and share easily. Very handy at a fair! Pricing options start at free.

WallApp

Powered by OhMyPrints.com, their drag-and-drop tool allows you to place artwork or photography in a variety of room setting options, clicking through to choose your favorite, or uploading a room of your choice to customize it. Although you cannot set it "at scale" you can change the size of the art image within the background to your estimated size. This tool is free to use. A small watermark will show up on the final image.

Here's to taking your online presence to the next level!


article courtesy of Carolyn Edlund for Artsy Shark